HyPerformer II: TH2ECO-Mobility
Aim: Establishment of a multifunctional hydrogen filling station at the Erfurt freight centre
Project volume: EUR 25 million (BMDV funding EUR 15 million)
Duration: 09/2023-09/2027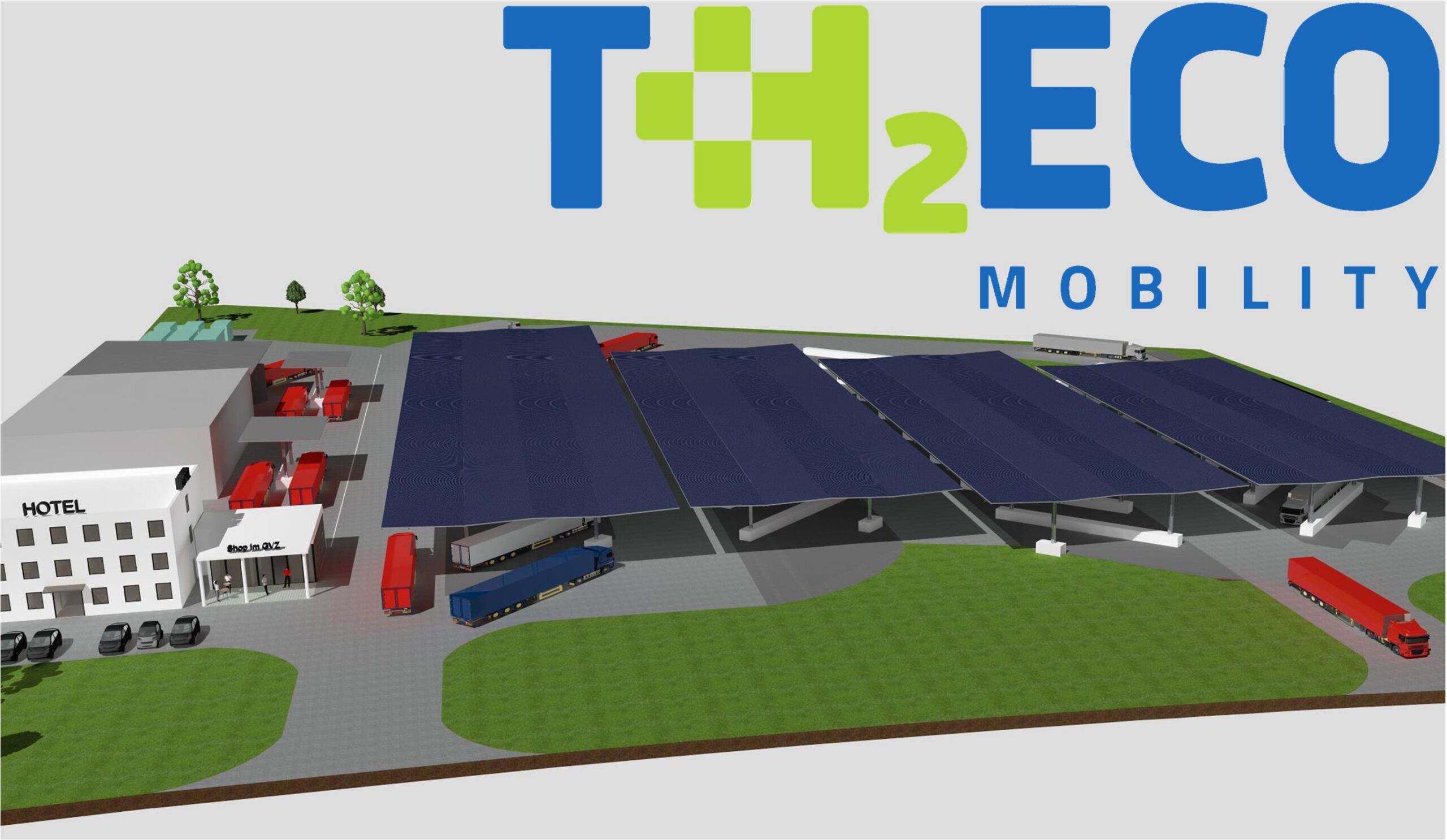 The initial foundations for the TH2ECO MOBILITY project were laid in 2019. The Thuringian Ministry of Energy, Environment and Nature Conservation (TMUEN – Thüringer Ministerium für Energie, Umwelt und Naturschutz) commissioned EurA AG to conduct a feasibility study on the construction and operation of a hydrogen fuelling station for trucks at the Erfurt freight centre (GVZ – Güterverkehrszentrum), which yielded a positive result. Approximately 8% of all Thuringian vehicles are registered at the GVZ and the total annual fuel consumption is currently approx. 9.6 million litres of diesel. The emissions of these vehicles alone amount to approx. 32,500 t/CO2 per year. The TMUEN's target is to reduce these emissions by 15% by the end of 2025 and 30% by the end of 2030.
The resulting H2mobility project will be integrated into the Thuringian Hydrogen Ecosystem (TH2ECO), which was initiated by Ferngas Netzgesellschaft. TH2ECO pursues the goal of establishing a hydrogen infrastructure in essential areas of industry and everyday life. By means of wind power, photovoltaics and water electrolysis, green hydrogen is produced and used as a basis for the development of a sustainable energy economy in Thuringia.
The TH2ECO MOBILITY project comprises the construction of a public hydrogen filling station for commercial vehicles, including regional H2 production, filling and logistics. Various sub-goals are to be achieved: Construction of two electrolysers (2 MWeleach), connection to a distribution pipeline for hydrogen, development of hydrogen-powered intralogistics, and conceptual design and implementation of a trailer system for hydrogen transport. The transition from an isolated solution to a distribution network with connection to the European supply network (European Hydrogen Backbone EHB) is anticipated.
In April 2023, TH2ECO MOBILITY was announced as one of the winning regions in the HyPerformer category of the HyLand competition. The Federal Ministry for Digital Affairs and Transport (BMDV – Bundesministerium für Digitales und Verkehr) is pledging up to 15 million euros – this is a decisive step to pave the way for Thuringia to become a hydrogen state. The total investment for the Thuringian hydrogen project amounts to approx. 25 million euros.
TH2ECO MOBILITY offers an excellent opportunity to develop Erfurt with its efficient freight transport centre into a decarbonised logistics location. The hydrogen filling station is scheduled to go into operation in 2025.
The HyPerformer regional stakeholders:
EurA AG, Ferngas Netzgesellschaft mbH, TH2ECO, JET H2 Energy Germany GmbH, SWE Netz GmbH, BOREAS Energie GmbH, Green Wind Innovation GmbH & Co. KG, Zalando Logistics SE & Co. KG
Project contact
Dirk Schmidt
EurA AG, Niederlassungsleiter Thüringen