HyExperts II: HyAllgäu*-Lake Constance Region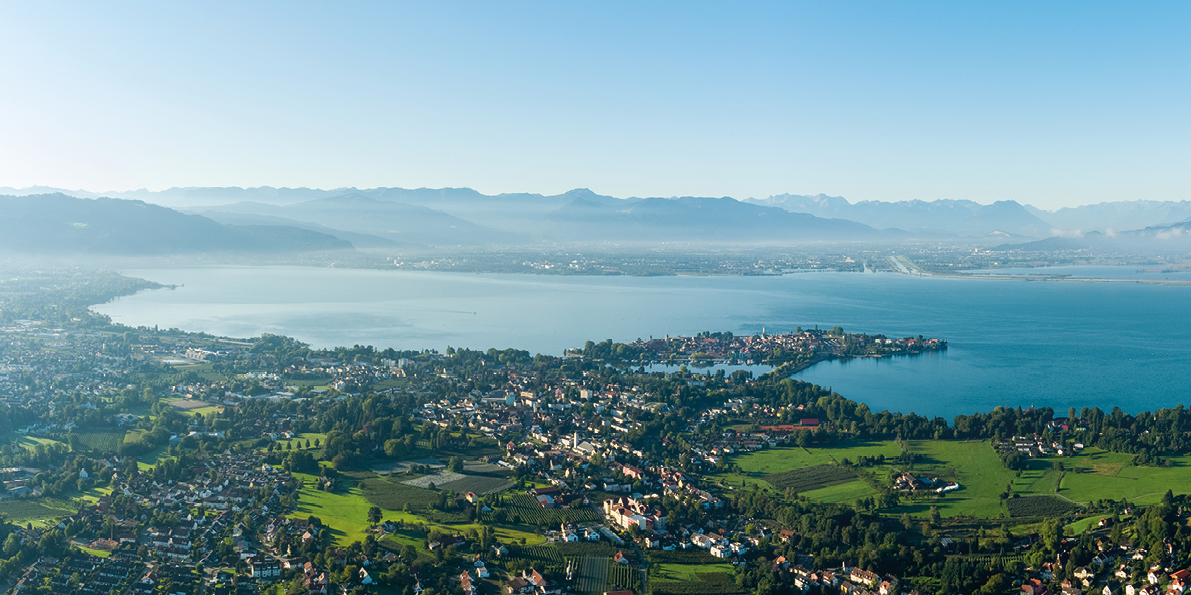 About the region
The district of Lindau (Lake Constance) is located in the extreme southwest of Bavaria at the junction between Lake Constance and Allgäu and is part of the quadrilateral region of Lake Constance (Vierländerregion Bodensee). The HyAllgäu*- Lake Constance (HyAllgäu*-Bodensee) region includes the districts of Ostallgäu and Unterallgäu, the independent cities of Kaufbeuren and Memmingen, the cities of Lindau (Lake Constance) and Konstanz, and the municipality of Fuchstal. The unique location of the region from Lake Constance to the Allgäu opens up a diverse spectrum of landscapes:
From the mild lake climate in which fruit and vineyards are cultivated, to the hilly western Allgäu with livestock farming, to the impressive Allgäu Alps. In the predominantly rural area, renewable energies have been used for many years. The main focus is on photovoltaic and biogas plants – also used by the numerous small and medium-sized enterprises and start-ups located in the Allgäu.
Hydrogen mission of the region
Expansion of the successfully launched hydrogen activities from the first HyLand phase (HyAllgäu Oberallgäu/Kempten, hydrogen model region Ostallgäu) to the entire Allgäu and the Lindau Lake Constance region.
Creation of a regional sales market for green hydrogen from the region
Focus on feasibility: economically viable applications for mobility, in particular public transport, logistics and waste disposal, are given priority.
The special case of shipping on Lake Constance: possible use of hydrogen in the shipping fleet for zero-emission transport.
Establishment of the necessary infrastructure including a regional hydrogen refuelling station network
Identification of additional hydrogen capacities for a decentralised hydrogen supply in the region
The HyExperts stakeholders:
BioEnergie Allgäu GmbH & Co. KG – blueFLUX Energy AG – Bodensee-Schiffsbetriebe GmbH –
Dorr GmbH & Co. KG – Gebrüder Weiss Gesellschaft m.b.H. Transport und Logistik – Georg Jos. Kaes GmbH – Goldhofer AG – h2connect.eco – Kempten University of Applied Sciences – HyAllgäu – iwis smart connect GmbH – KNK Thermo Solar Power GmbH – Max Müller Spedition GmbH – Regionalbus Augsburg GmbH – Stadtwerke Lindau (B) GmbH & Co. KG – ZAK Holding GmbH and many more.