HyPerformer I:
HyWays for Future
Aim: Fuel supply with green hydrogen
Project volume: EUR 64.2 million
Duration: 2020 to 2023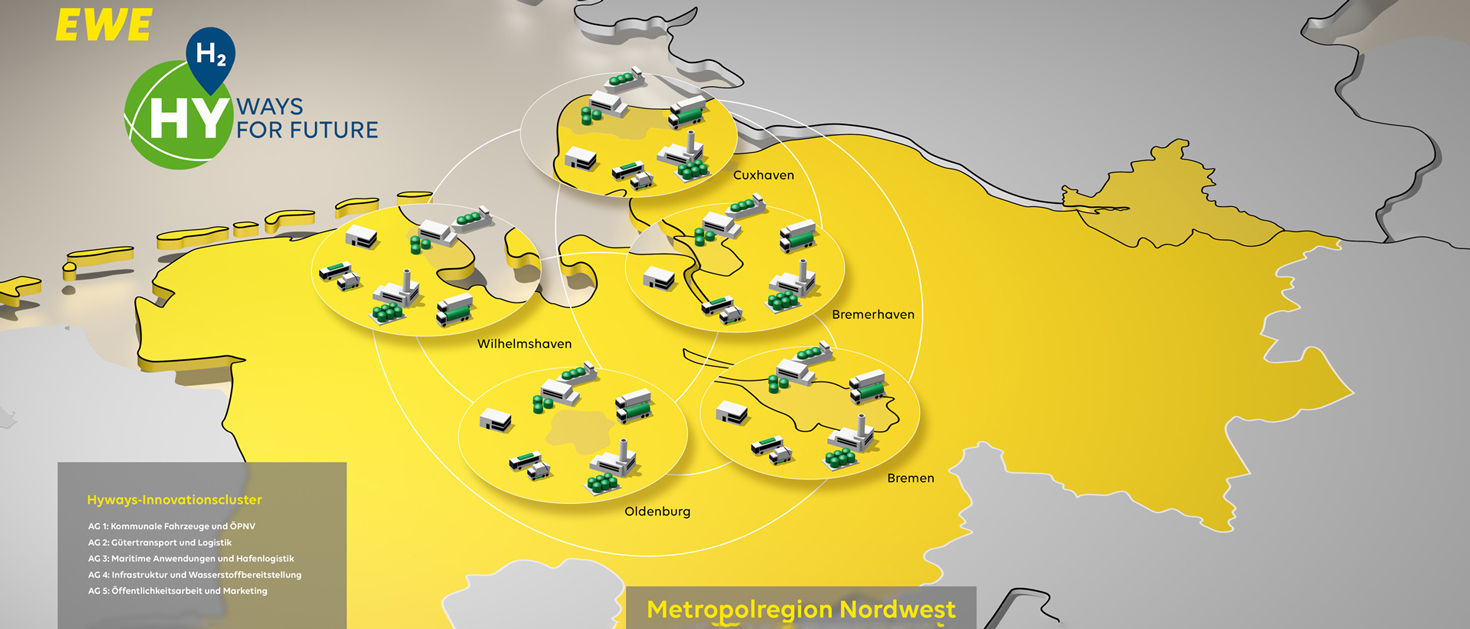 Hyways for Future serves as a market activation programme for the establishment of green hydrogen in the transport sector in the Northwest metropolitan region and paves the way for a cross-sectoral and cross-border hydrogen economy. The aim is to open up the transport sector as a sales market. Green hydrogen will thereby be established as an alternative to petroleum-based fuels. The use of upstream, pipeline-based hydrogen supply infrastructure in conjunction with central hydrogen production at cavern storage sites in the region will result in a significant decline in costs in the individual value-added stages of hydrogen production, hydrogen transport and hydrogen storage.
The primary goal of the Hyways for Future project is to bring together the key players in the region to establish a green hydrogen infrastructure along the entire value chain, from production and transport to users from all transport sectors (road, rail, ship, air) and industries, and to position the cities of Bremen, Oldenburg, Wilhelmshaven, Cuxhaven and Bremerhaven as well as the entire region as a hydrogen model region. This will pave the way for a market ramp-up of hydrogen technology and in turn contribute to a massive reduction in the region's and Germany's CO2 emissions.
As a first step, the Hyways for Future project, part of the HyLand funding call of the National Innovation Programme Hydrogen and Fuel Cell Technology (NIP 2), will lay the foundation for the development of a sustainable hydrogen infrastructure. The initial focus here is on (heavy-duty) mobility, including filling station infrastructure and the purchase of fuel cell vehicles in the public transport, waste disposal, logistics and fleet vehicle sectors. This, in turn, serves as the initial spark for the expansion of renewable hydrogen as a fuel for the entire transport sector in the Ems-Weser-Elbe region.
Project contact
Eva Stede
EWE GASSPEICHER GmbH,
Large-scale Storage and Hydrogen Business Area, Hydrogen Organisational Unit
eva.stede@ewe.de