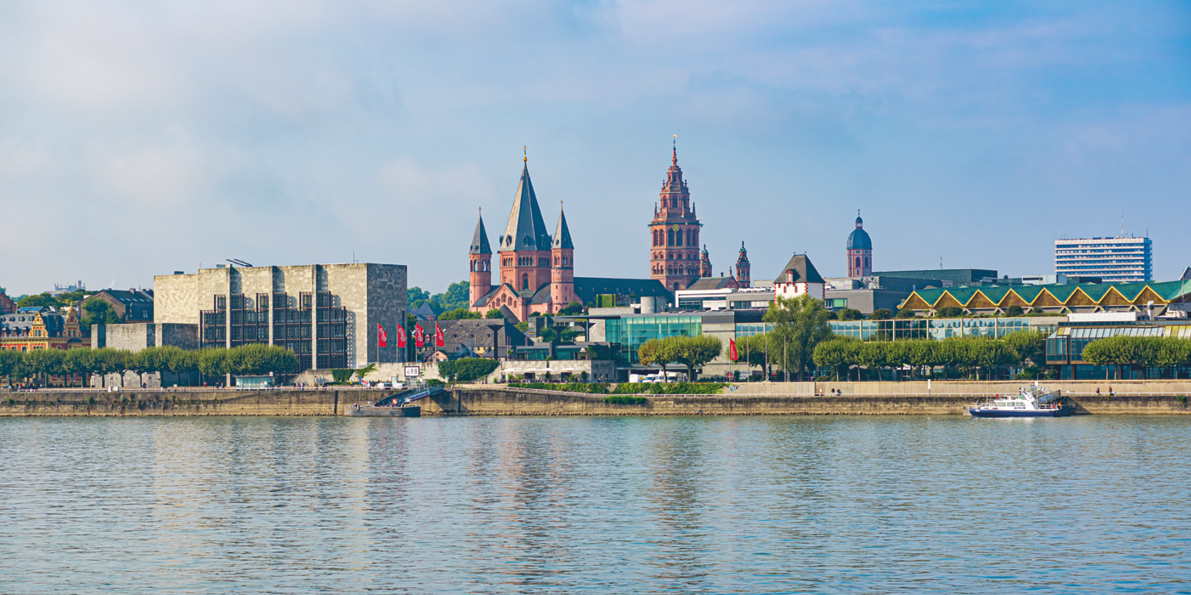 About the region
In Mainz, one of Germany's oldest cities, tradition and progress are not conflicting concepts. Here, a modern hub for business, media and science has emerged that is developing dynamically and opening up great future opportunities for the city and the people who live here. At the Johannes Gutenberg University and the University of Applied Sciences, which are steeped in tradition, 40,000 students study and, along with 4,000 academics, contribute to the city's reputation as a centre for media and research. With the
University Medical Centre and innovative companies in the fields of healthcare and biotechnology, Mainz is also designated as a healthcare location with high development potential. The state capital has been a master plan municipality since 2017. Here, ambitious projects contribute to reducing the emission of climate-damaging greenhouse gases and energy consumption, and together with all stakeholders from civil society and business, the self-imposed goal of climate neutrality by – ideally – the year 2035, is within reach.
Hydrogen mission of the region
Implemented:
In the Energy Park 6 MW power-to-gas plant since 2015 – feeding 10% hydrogen into the Mainz-Ebersheim natural gas grid and delivery via truck trailer to the hydrogen refuelling station (350 bar) at ESWE Verkehrsgesellschaft, Wiesbaden for refuelling local public transport vehicles in Mainz and Wiesbaden as well as supplying various industrial customers in the region, 11 fuel cell buses in the local public transport network of Mainzer Verkehrsgesellschaft and ESWE Verkehr Wiesbaden.
Planned:
From 2024, new electrolysis 1.25 MW at Wirtschaftsbetrieb Mainz for the production of
green oxygen for ozonation of the fourth purification stage in the Mainz central sewage treatment plant, the
green hydrogen produced is to be proportionately fed into the natural gas network Mainz-Mombach/Budenheim
, or delivered to private cars/trucks and public transport at a new public hydrogen filling station (350 and
700 bar) at the central sewage treatment plant, admixture of hydrogen to the natural gas of the glass melting at Schott AG and the paper production of essity GmbH Mainz-Kostheim.
The HyExperts stakeholders:
DB Cargo BTT GmbH – DB Regio Bus Mitte GmbH – Energieagentur Rheinland-Pfalz GmbH – Waste Management Company of the City of Mainz – Ernst Frankenbach GmbH – Fiege Logistik Stiftung & Co. KG – GO! Express & Logistics Mainz GmbH – HeidelbergCement AG – RheinMain University of Applied Sciences – Chamber of Industry and Commerce for Rheinhessen – Kraftwerke Mainz-Wiesbaden AG – Mainzer Stadtwerke AG – Mainzer Verkehrsgesellschaft mbH – Prefere Paraform GmbH & Co. KG – RENOLIT SE – Schmitz & Bramer GmbH – Schott AG – Spedition Schmelzer GmbH – TSB gGmbH – WEPA Hygieneprodukte GmbH – Werner & Mertz GmbH – Wirtschaftsbetrieb Mainz AöR – ZBT GmbH – and many more.