HyExperts I:
Goods transport with green hydrogen – Future Mobility
Aim: Coupling of regional renewable energies with goods transport using H2
Duration: 07/20 to 06/21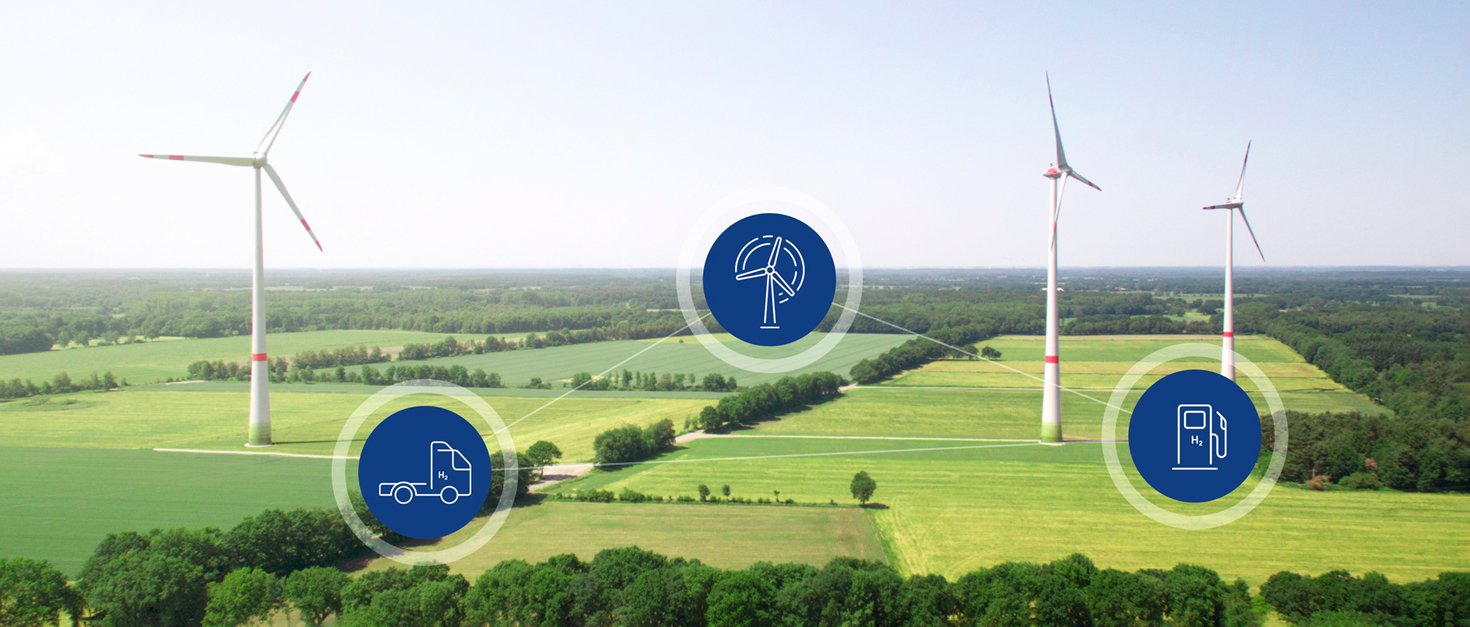 The region of Northeast Lower Saxony comprises eleven districts and is distinctively rural. In 2018, the region set out together to become a model region for the hydrogen economy. This gave rise to the North-East Lower Saxony Hydrogen Network – H2.N.O.N. ("Wasserstoffnetzwerk Nordostniedersachsen"). The district of Osterholz, as applicant and coordinator, is located in north-eastern Lower Saxony on the border with Bremen. It coordinates the region's activities within ARTIE, the regional network for technology, innovation and development.
For the first lead project, the focus is on the topic of mobility. We are very proud of the award as "HyExperts" with the project "Goods transport with green hydrogen – Future Mobility" ("Lastverkehr mit grünem Wasserstoff – Future Mobility")! Our goal is to couple the regional generation of renewable energies, e.g. from wind power and biogas, and transport (trucks, public transport, waste disposal) with the help of hydrogen technologies. In doing so, we constantly keep an eye on the entire value chain.
The network is supported by the Lüneburg Office for Regional Development (ArL – Amt für regionale Landesentwicklung), the Stade Chamber of Industry and Commerce for the Elbe-Weser region and the Lüneburg-Wolfsburg Chamber of Industry and Commerce, the Stade-Lüneburg-Braunschweig Chamber of Crafts and the districts of Celle, Cuxhaven, Harburg, Heidekreis, Lüchow-Dannenberg, Lüneburg, Osterholz, Rotenburg (Wümme), Stade, Uelzen and Verden.
But the central focus is on the committed companies in our region: the network partners currently have around 1,600 trucks, 700 buses, 110 filling stations and 175 MW of renewable generation capacity (approx. 450,000 MWh/a).
The funding from the HyLand programme will be used to finance studies and concepts that will show the possibilities of hydrogen mobility from generation to use in goods transport. Our goal is to produce an integrated business plan that will be the basis for further action.
A consortium of the companies Becker Büttner Held Consultung and Energy Engineers has been commissioned to prepare this. The results will be published in summer 2021.
Click here to go to the project website.