HyExperts – Ready for implementation!
HyExperts regions are already familiar with the topic of hydrogen. The regions already had active stakeholders, networks and initial project ideas relating to the topic of hydrogen even prior to their participation in the HyLand competition. In the first HyLand round,13 regions were selected for funding from 28 applications. The HyLand funding supports the winning regions with 300,000 euros each towards the development of their ideas and concepts. The regions firm up and refine their project ideas to the point where practical implementation is possible.
The HyExperts are also moving on to the next round with HyLand II. The winning regions of the second HyLand phase were announced in September 2021. In the HyExperts category, funding of up to 400,000 euros each will be made available to the
winning regions' local authorities. With this funding, the winners can commission consulting, planning and other services. The aim is to develop an implementable overall concept for a regional hydrogen economy. Among the winners are the following regions: District of Ostalb (Baden-Württemberg), District of Reutlingen (Baden-Württemberg), District of Havelland (Brandenburg), State Capital Kiel (Schleswig-Holstein), City of Hagen
(North Rhine-Westphalia), Hanseatic City of Stralsund (Mecklenburg-Western Pomerania), District of Wartburg (Thuringia), City of Mainz (Rhineland-Palatinate), Werra-Meißner District (Hesse), District of Düren (North Rhine-Westphalia), City of Chemnitz (Saxony), District of Passau (Bavaria), District of Lindau (Bavaria), District of Neustadt an der Waldnaab (Bavaria) and the District of Helmstedt (Lower Saxony). The regions have already commenced their work. More information will follow
here shortly.

The winners of the first HyLand round in the HyExperts category include the following 13 regions: City of Brake, District of Emsland, City of Essen, City of Frankfurt am Main, City of Fulda, City of Ingolstadt, District of Lippe, District of Oberallgäu, District of Osterholz, District of Recklinghausen, State of Saarland, City of Ulm and District of Wunsiedel im Fichtelgebirge.
Click on the respective region to go directly to the project pages. Here you will find comprehensive information regarding the projects.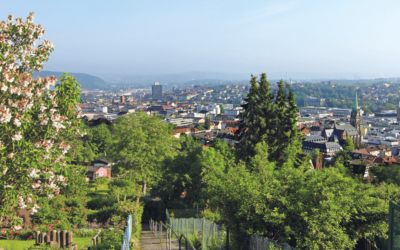 The city of Hagen, with a population of around 195,000, is considered the connecting link between the Ruhr region and the Sauerland. Due to its special geographical location and the high density of energy-intensive steel processing and logistics companies, Hagen has excellent conditions for entering the hydrogen age.
read more