HyExperts I:
IN
2
H
2
– Hydrogen Concept Ingolstadt
Aim: Municipal enterprises as drivers for the development of a regional hydrogen economy
Duration: 07/20 to 09/21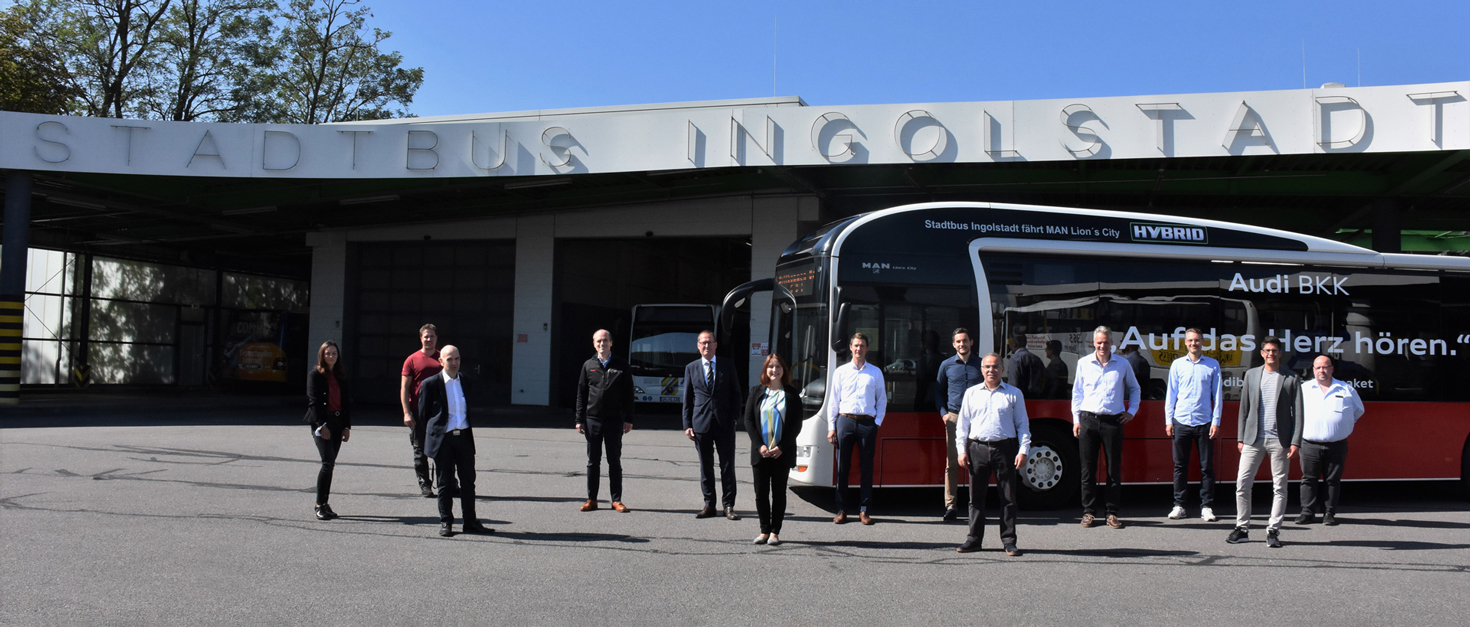 Ingolstadt is a leading location for industry and mobility in Germany in terms of business and research. With its central location in the middle of Bavaria, optimal transport connections via the A9 motorway, the ICE network of the German railways and its proximity to the airports of both Munich and Nuremberg, as well as its highly developed infrastructure, Ingolstadt offers an excellent foundation for commercial success. The city on the Danube is located in planning region 10, which includes not only the city of Ingolstadt but also the districts of Eichstätt, Pfaffenhofen and Neuburg-Schrobenhausen. It is one of the most successful regions in the whole of Germany, with above-average economic development, excellent social infrastructure and one of the lowest unemployment rates in Germany.
Together with a thriving scientific community at the Ingolstadt University of Technology, the Catholic University of Eichstätt-Ingolstadt and research institutes, the region's high-performing companies – from global players and strong SMEs to innovative start-ups – are shaping the future of mobility in their surroundings. At the same time, Ingolstadt has a large-scale industrial hydrogen producer and consumer in the form of the Gunvor refinery, which has already successfully demonstrated cross-sectoral cooperation through a modern district heating network with the Ingolstadt Stadtwerke and the Zweckverband Müllverwertungsanlage Ingolstadt.
The city of Ingolstadt together with its municipal companies sees itself as a testing ground and living laboratory for innovative and sustainable technologies and is pushing ahead with corresponding initiatives, for example in the areas of digitalisation, sustainability, artificial intelligence and mobility of the future. This provides essential framework conditions for testing the entry into a local cross-sector hydrogen economy.
The HyExperts "IN2H2" project specifically pursues the goal of thoroughly investigating the technical and economic feasibility of introducing hydrogen mobility in the municipal fleet (local public transport, municipal waste disposal) in conjunction with green hydrogen produced locally in Ingolstadt (in the future) and developing a corresponding integrated implementation concept In addition, the concept should also provide starting points for further development potentials of a regional hydrogen economy, e.g. for applications in the context of off-grid energy supply, for combined heat and power generation, for producers of fuel cell components or generally for future service providers or start-ups.